Bargain Booze is a convenience store group in the UK. Headquartered in Crewe, Bargain Booze sells beers, wine, cider, lager, soft drinks, e-cigarettes and alcopops. Bargain Booze was founded by Allan Whittle & Robert Mayor in 1981 and has been a revolutionary brand in the alcohol industry ever since. Bargain Booze has been accredited with the Drinks Retailer of the Year award for 2016 and 2017. Bargain Booze isn't like any other alcohol-selling company. They believe in promoting alcohol responsibly and in an environmentally friendly manner.
Here are some details of a Bargain Booze Franchise to take note of:
Bargain Booze Franchise STATS
MINIMUM INVESTMENT
~ EURO 10,000
TOTAL INVESTMENT
~ EURO 100,000
Why take a Bargain Booze franchise?
The first Bargain Booze franchise opened in 1988 and there has been no looking back since then. Today Bargain Booze is one of the fastest growing alcohol chains in the UK with over 700 throughout the country. Being a part of Bargain Booze means you're a part of a revolution in the alcohol industry. Bargain Booze is known for alcohol at the best prices offered with the best service. As a franchise you will be selling the best of our beers, wines, confectionery, soft drinks, etc at the best possible deals.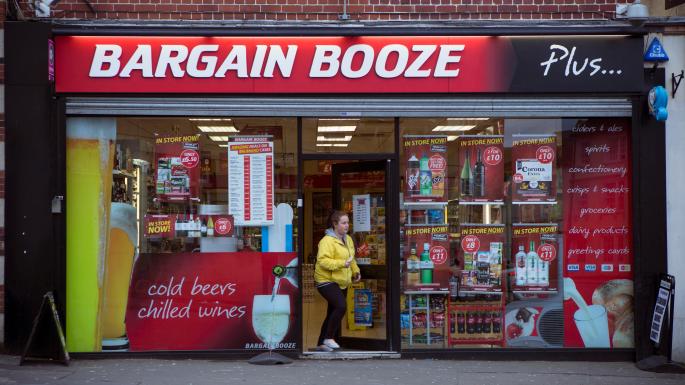 How to Apply for Bargain Booze franchise?
Applying for a Bargain Booze franchise is simple. You can simply call on 0330 30 30 333 or write an email to makemoremoney@bargainbooze.co.uk.
You can enquire about the franchise and someone from the franchise team will reach out to you to discuss further details.
Training & Support
Bargain Booze is a member of the British Finance Association and known to provide one of the best training modules in the industry. The Bargain Booze franchise comes with absolute support from the franchise team. You will first receive the initial part of the training at the Bargain Booze head office at Crewe, followed by an in store training at your franchise location. You will also get your own EPOS system along with merchandising and marketing support. As a franchise you will also get legal device.
Bargain Booze franchise Cost & Fee
A Bargain Booze franchise requires a minimum investment of £10,000 and a maximum investment of £100,000. The total investment is inclusive of initial set up costs and marketing support. The total cost of the entire franchise package can be between £25,000 to £100,000 + VAT depending on your location.
Bargain Booze franchise Contact information
You can simply call on 0330 30 30 333 or write an email to makemoremoney@bargainbooze.co.uk.
You can also write to:
Make More Money
Bargain Booze
Unit 1 Weston Road
Crewe
Cheshire
CW1 6BP
Bargain Booze franchise FASQ's
What are the other prerequisites to opening a Bargain Booze franchise?
~ You need the correct location and premise to open a Bargain Booze outlet.
What is the minimum profit one can expect monthly and yearly?
~ The projected turnover for 1 year of Bargain Booze franchise is roughly £725,000 that means that the profit sums up to £80,000 for the first year alone.
Can I open a Bargain Booze franchise?
~ If you can get your personal license and are ready to undergo a CRB background check then you can open a Bargain Booze franchise.
Does Bargain Booze offer third party funding?
~ Bargain Booze offers financial assistance from NatWest and RBS, so you do not have to worry about your investment.