Card Connection is a pioneer of the greeting cards industry. Established in 1992, Card Connection has grown to be one of the biggest franchise brands in the greeting cards domain. Card Connection is a part of the British Franchise Association and the Irish Franchise Association since 1995 and 1996 respectively. With a minimum investment of £50,000, the company provides you with a comprehensive training programme, a dedicated manager and constant support assistance. If you are someone who enjoys a good work life balance and have a desire to manage your own successful business, then Card Connection is the right choice for you.
Here are some details of a Card Connection Franchise to take note of:
Why take a Card Connection franchise?
As we discussed earlier that Card Connection is a pioneer in the greeting cards industry. Moreover, Card Connection is a vending machine franchise allowing you a lot more flexibility than a traditional business. As a vending machine franchise, Card Connection requires minimal staff and storage space, making it a good option to consider as a franchise. You do not even require any prior experience to open a Card Connection Franchise. All you need is a keen interest in the business and you are good to go.
What kind of cards does Card Connection sell?
Card connection sells a wide range of greeting cards. More than 900 types of cards are available at a Card Connection outlet for all occasions. From mother's day to Valentine's Day, Card Connection caters to all your greeting card needs.
How to Apply for Card Connection Franchise?
Applying for a franchise is simple.
You can simply fill the form here: https://card-connection.co.uk/franchise-application-form/?franchise=204
Once your form has been accepted, you will be called at the Card Connection office at Farnham, Surrey to meet the Managing Director. If all goes well then the franchise officer will set up a follow up meeting at your location to discuss further details of the franchise.
The final step is to meet the selling franchise vendor and settle a price. You are supposed to pay Card Connection the total purchase price that includes goodwill, stock, supply costs etc. Card Connection will hold this sum in trust for the entire duration of the transaction. The training will begin shortly after the formalities are completed.
What Training or Support will I receive with the Card Connection Franchise?
Card Connection offers a comprehensive training and support programme. The training starts at the Card Connection head office in Surrey. This initial training is for 2 days and includes both theory as well as practical sessions. This is followed by a 20 day on the job training. You also get a dedicated franchise officer during this period to help you with anything that you may require. The support from the franchise office is offered on an ongoing basis. The officer may visit you from time to time to see how things are functioning and offer assistance in case of any challenges.
Card connection also provides card racks and other display options for finally setting up your franchise outlet.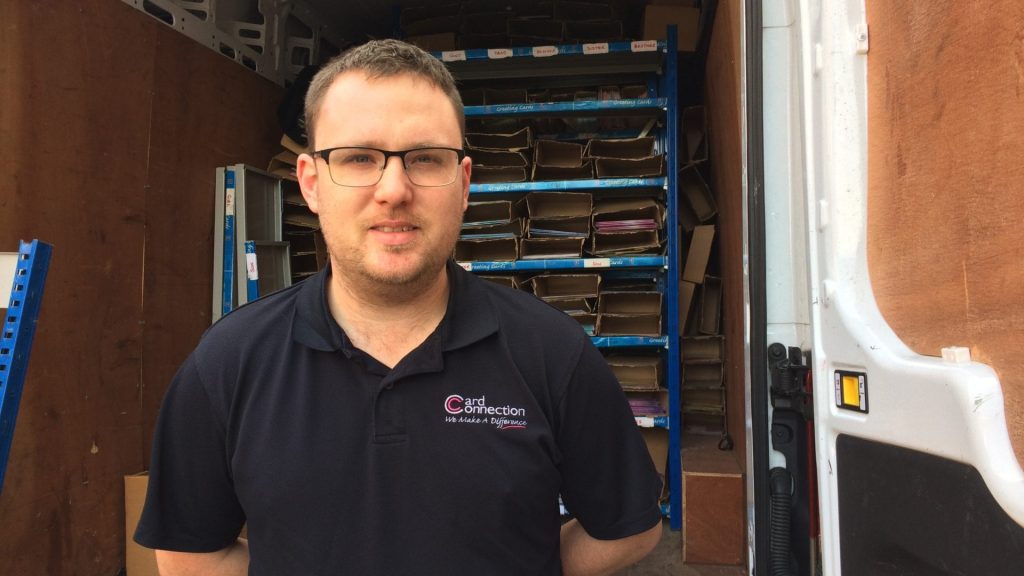 Card Connection Franchise Cost Information
You will require a minimum Investment of £ 50,000 to start the Card Connection franchise. The total investment can go up to £ 80,000. Out of this the franchise fee is £9,900. In addition to this Card Connection franchise also require working capital of at least 20 % of the turnover. The good thing is that Card Connections understand how challenging opening a business can be and therefore offers various funding options that you can leverage. You can visit this link for more information on the third part funding options: https://card-connection.co.uk/funding/
Card Connection Franchise Contact Information
You can fill the franchise enquiry form here: https://card-connection.co.uk/franchise-application-form/?franchise=204   and wait for Card Connection to get back to you.
You can also send an email to enquiries@cardconnection.co.uk for general enquiries.
Additionally, you can also call up on: 01252 892300.
Frequently Asked Questions
What are the other requirements for opening a Card Connection Franchise?
~ Depending on the size of the franchise that you purchase, you need a garage or a storage area. As each Card Connection franchise requires picking and packing of cards before they reach the franchise outlet, you require a storage area. You will also need a van and a van and preferably an iPad to manage these functions.
What is the minimum profit one can expect monthly and yearly?
~ While it is not possible to predict an individual's future as multiple things may influence it. The profits of Card Connection as a brand are quite impressive. Once you are in touch with the Card Connection Franchisor, after filling the form, you can discuss the financial aspects with them.
Do I need prior experience?
~ You do not require any particular experience prior to opening a Card Connection Franchise. As long as you thrive on enthusiasm, are a people's person and have a passion to succeed, you're perfect to be on board.
Does Card Connection have National Account?
~ Card Connection has about 100 National Accounts some of which are BP Simply Food, Budgens, Londis, Spar & Nisa.