Millie's Cookies is a door to door name in the UK. It is a very popular and respected brand in the food industry. Founded in 1985, Millies Cookies has a wide presence in the UK today. There are currently 105 company-owned outlets and 18 franchised stores of Millies Cookies in the UK alone. The company also has plans of opening up new franchises in India, Qatar and Saudi Arabia in the near future.
Millie's Cookies is actually owned by the parent company, SSP International. SSP international is a huge corporation that operates outlets at airports and train stations for brands like Starbucks, Burger King, etc.
Millie's Cookies offers its customers both dine in and take out facilities. It has made a huge mark for itself in the food industry with its diverse range of freshly baked cookies. They offer personalized cookies as well as muffins, smoothies and ice creams. Millies Cookies has also collaborated with Baskin Robins and Ben and Jerry's and come up with a range of cookies and ice creams.
A great part of the Millies Cookies expansion plan has been their inclination towards franchising. Out of the 123 Millies Cookies stores in the UK, 18 of them are franchises. The brand is growing in leaps and bounds both within the UK and outside. In fact, the company recently announced its interest in expanding to India, Qatar and Saudi Arabia through franchises.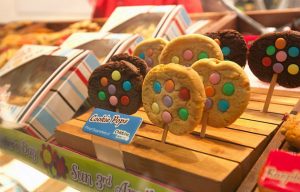 You must know that as a potential franchise owner, you are expected to have enough capital for investment to cover the cost of three to four different Millies Cookies stores in your area. Millies Cookies believes in the concept of running a multi-unit 'area development' scheme. The brand does not believe in standalone outlets.
The expected investment for three to four stores is £100,000 each.
The initial investment is expected to be £100,000. The important thing to note here is that you will be required to invest in at least three to four different outlets of Millies Cookies. That brings the total initial investment cost to £300,000 -£400,000.
It's simple to begin the process of application. You can go to the Millies Cookies website and fill out their franchise enquiry form. Here is the link:
https://www.milliescookies.com/franchise-opportunities
Someone from the franchise team will get back to you.
Millies Cookies provides a comprehensive training and support pack. You will receive undivided attention and support in return for your investment in the brand. You can be rest assured to receive assistance with staff training, store operations, etc. The brand will also lend a hand with the store construction as well as provide marketing tools for the store.
You can either fill up a form here: https://www.milliescookies.com/franchise-opportunities
Or Call on 0207 529 8369 between 9 am and 5 pm from Monday to Friday.
Do you need prior experience to open a Millies Cookies Franchise?
~ Millies Cookies expects its franchises to have suitable experience in the food industry. If you have prior experience of working in the food industry, then you are a good fit to invest in the brand.
How much is required to open a Millies Cookies Franchise in the UK?
~ You can start with an initial investment of £100,000 per store or outlet.
Is it safe to invest in Millies Cookies in the UK?
~ Yes, it is completely safe to invest in Millies Cookies in the UK. You should feel completely confident keeping in mind the company's experience and popularity in the food industry.
Who constitutes the consumer base for Millies Cookies?
~ Millies Cookies states that their core consumer base comprises of youngsters between the age of 20 and 25 years. They also claim to have more female consumers.
Is funding support available, if yes then what are the options?
~ You can discuss these options directly with the company based on your capital and geographical requirement.