ChipsAway is one of the UK's foremost mobile car paintwork repair brands. They primarily believe in 'SMART' or 'Small to Medium Area Repair Technology' repairs. ChipsAway has been in the car repair business for more than 20 years now. They have over 200 franchises in the UK and have also made their presence in over ten other countries worldwide.
ChipsAway Franchise STATS
MINIMUM INVESTMENT
~ EURO 15,000
TOTAL INVESTMENT
~ EURO 29,995
FRANCHISE FEES
~ EURO 15,000
BUSINESS CATEGORY
AUTOMOTIVE
About ChipsAway franchise?
ChipsAway franchises deal with small scale damage repairs in vehicles. Some examples of damages would be bumper scuffs, minor paintwork, and dents etc. ChipsAway believes in the concept of mobile franchises that can reach the customer's door to offer assistance.
As a ChipsAway franchise, you will be initially assisting customers in your mobile workshop. However, ChipsAway offers the option to later expand your business to car care centers for bigger and more serious damage repairs. Either way, your job will be to offer high quality, SMART repairs to your customers.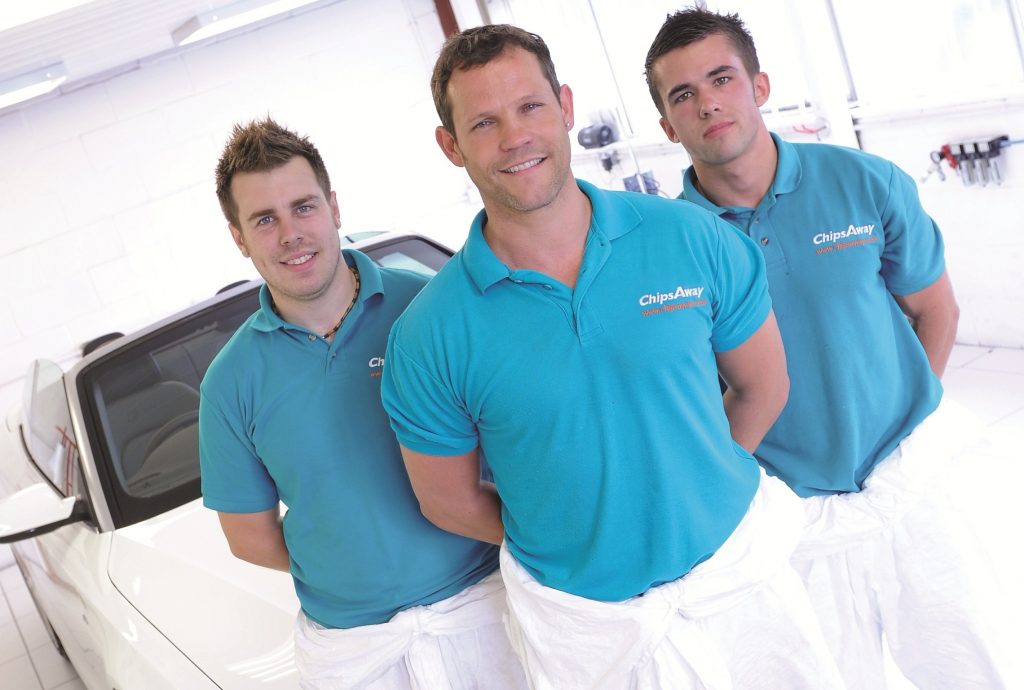 Potential of ChipsAway franchise?
ChipsAway has accumulated over 20 years of industry knowledge and experience in the car repair industry. ChipsAway is a brand that is owned and led by a hugely experienced management team, with decades of experience. As a ChipsAway franchise owner, you get a chance to be your own boss. The company also guarantees 'a minimum of £80,000-100,000 worth of customer inquiries in the first year itself'.
It provides a business plan with ample support and training that will ensure that you have a smooth start and a fulfilling journey in the bodywork repair business.
ChipsAway Franchise Cost & Fee Information
The cost of the ChipsAway franchise is £29,995 + VAT. However, the company offers different pricing options and you can start with £15,000 + VAT in the beginning.
How to Apply for ChipsAway Franchise?
It's simple to begin the process of application. You can request a franchise info pack here: https://www.chipsaway.co.uk/franchise/form/free-information-pack/
The info pack contains information about the franchise and will be delivered to your doorstep. After receiving the info pack you can attend one of the open day meetings. Open days are nothing but meetings set up at the ChipsAway West Midlands Head Office for potential and prospective franchise owners. This is where you can discuss the intricacies of starting a ChipsAway franchise business with the team.
ChipsAway Franchise Training and Support
If everything goes smooth at the open day and both the parties wish to continue, then you can begin with the training. There is a four-week beginner training course to induct you into the business. This includes an IMI accredited technical training course, a CRM system training course, and some paint and dent training. This is usually followed by a two-day sales and marketing program.
Beyond your initial training, you will make have a constant support of the brand to help you run your business smoothly. You will receive ongoing technical advice as well as help from other ChipsAway franchisees. You will also get to attend the annual ChipsAway conference and regular regional meetings from time to time.
ChipsAway Contact Information
You can either request for an info pack and then attend an open day or Call on 0800 731 6914.
Frequently Asked Questions
Can you open a ChipsAway Franchise?
~ Yes, you can open a ChipsAway franchise. You do not need to have prior experience in the field. ChipsAway will provide you with all the tools, teaching and support to run your franchise successfully.
How much is required to open a ChipsAway Franchise in the UK?
~ The total cost of the franchise is £29,995 + VAT.
Is it safe to invest in ChipsAway in the UK?
~ Yes, it is completely safe to invest in ChipsAway in the UK. You should feel completely at ease keeping in mind the company's experience and reputation in the car repair industry. Moreover, if you have any reservations about making a decision, you can attend an open day and talk with both new and established franchisees to get a better perspective.
 What is the minimum profit one can expect?
~ ChipsAway guarantees all its new franchisees a minimum of £80,000 worth of customer inquiries in their first year. This means that you will have enough customers to get the business started. Moreover, you can choose how much work you wish to undertake. You will always have the flexibility to choose work as per your convenience.
At an average, a ChipsAway franchise can reportedly easily earn up to £75,000 a year.
Is funding support available, if yes then what are the options?
~ You are required to have £15,000 plus VAT to get started. You can discuss further funding options with ChipsAway in the open day that you attend.