Every time you dip your yummy and crispy pizza slice in a mouth-watering dipping sauce, you must thank Papa John's for introducing dipping sauces for pizzas. Started off as a brand in 1984 in the United States, Papa John's owns around 5000 stores in 40 countries with more than 350 stores in the United Kingdom alone.
If you are looking to invest in a food franchise in the United Kingdom, Papa John's is a great opportunity to create profit. With an acquired expertise and experience gained through years, it is a win-win situation for both the company and the franchiser. Papa John is currently recruiting franchisers in the UK.
PAPA JOHN'S FRANCHISE STATS
MINIMUM INVESTMENT
EUR 100,000
BUSINESS CATEGORY
Food & Drink
About PAPA JOHN'S Franchise
John Schnatter aka "Papa" founded Papa Johns in a broomstick closet of his father's tavern in1984. He went public in1993.  He even sold his car to purchase pizza equipment for his venture. Papa Johns also earns credit for introducing delicious dipping sauces for Pizzas. In the year 2002, it became the first pizza chain to provide for online order facility to its customers on a national level in Unties States. However, it was not existent in the UK until the year 2001. The company had around 350 shops until the year 2015.  It is ranked 40th position for per unit sales according to QSR magazine's list of top 50 fast food chains. Its slogan is "Better Ingredients. Better Pizza Papa John's."  Papa John's believes in quality maintenance. Therefore, they use only healthy and fresh ingredients for their dough and sauces. The tomatoes for their sauces are freshly grown in central California. This way, Papa Johns ensure best customer satisfaction with high-quality service.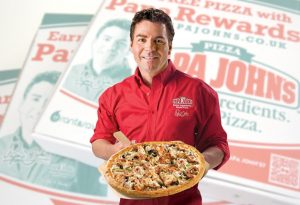 POTENTIAL AND PROFITABILITY OF A PAPA JOHN'S FRANCHISE
Since the company is ranked 40th position according to QSR magazine in the list of top 50 fast food chains, investing in this franchise is a hands-on profitable opportunity for franchisers. The annual sale across the globe has exceeded three billion $ and now Britainis frontrunner in the expansion of the brand on an international level by working towards the goal of 600+ units.
Annual worldwide sales exceed $3 billion and now Great Britain is spearhead the international expansion of the brand.
Since the first UK stores opened in summer 2000, customer feedback has been excellent so much so that Papa John's (GB) Ltd has been named UK Pizza Delivery Operator for 6 times by the Pizza, Pasta and Italian Food Association. Thus the prospects for the right kind of people who are dedicated and focused to work with a world class food franchise are bright. The universal popularity of pizza as a cuisine and combined with the credibility of Papa Johns as a brand makes it a handsomely profitable venture for franchisers.
COST AND FEE INFORMATION
The franchise approximately costs around £18500 with additional charges for each franchise unit. The required minimum liquid capital is £100000. The banks lend upto 70% of this cost in accordance to your financial history. The franchiser will have to bear all the expenses for rent, rates and utility costs of the store during the term of the agreement. It also depends upon other factors such as site or building cost.
The franchise package initial payable fee provides a right to use the trademark of the company, the company's system of preparation marketing and selling of food products along with all the information and confidential know-how of the company. The allowance for management and staff training and the marketing at initial level in also included in the total investment cost.
The package comprises of all the cost of building and equipment for your site. It also includes all the expenses before opening, the cost of fixtures and fittings, ovens, marketing, collateral, franchise fee, fee of agents, project management etc.
TRAINING AND SUPPORT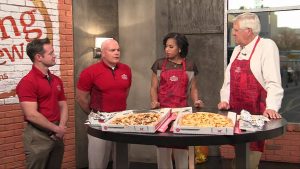 Papa Johns provides all the training and support to their franchisers to enable them run their start-up without any intrusions. They have a well-established systems and protocols for start-ups to ensure that start-ups receive the right guidance and assistance at the right time.
The franchisers will be provided a six week training course from the Franchise Management Training Program (MTP). It is held at Milton Keynes. It includes both classroom and practical work. The practical work will be done at a store in your local area. This course is being run throughout the year by Papa Johns so that the franchiser can attend it without any further delay at the time of opening of his store.
Further training program are also run for franchise and team members from time to time. All time support is provided by a Franchise Business manager and the campus staff of Milton Keyes in UK. Assistance is provided in recruitment and training new staff, marketing, pricing, product control, as well as other operational areas.
HOW TO APPLY
Papa Johns is currently recruiting franchisers. To apply for a franchise, you can visit their official website i.e. Papa johns official website https://www.papajohns.com/franchise/
or you can directly reach them on their uk website https://www.papajohns.co.uk/
And go to applications and then fill the form https://www.papajohns.co.uk/franchise/
You can also make a franchise enquiry by sending an email to them on their email id. Email:  enquiries@papajohns.co.uk
Mail your application with all the necessary documents. Shortly, you will hear from the Business Development Managemer Phil Geffer. You'll be provided a business plan template and you will have to complete according to your chosen trade zone. You'll present your findings and your business plan in a Business Plan presentatio in the approval interview. If you are approved, the property team will begin to locste your store in your trade zone. Once done with this, you'll be given a six weeks training and then shortly you will have your own Papa Johns store.
CONTACT US
Papa Johns is currently recruiting franchisers. To apply for a franchise, you can visit their official website i.e. Papa johns official website https://www.papajohns.com/franchise/
or you can directly reach them on their uk website https://www.papajohns.co.uk/
And go to applications and then fill the form https://www.papajohns.co.uk/franchise/
You can also make a franchise enquiry by sending an email to them on their email id. Email:  enquiries@papajohns.co.uk
Head Office
Papa John's UK & European Campus
11
Northfield Drive
Milton Keynes
MK15 0DQ
Email: enquiries@papajohns.co.uk