None of you need an introduction about Domino's Pizza as it loved by many. It is acknowledged across the globe as the leader in pizza delivery and operates in 73 countries worldwide. Domino's was assembled on elementary concepts, providing only delivery and limited menu. Initially, it offered only eleven topping choices, two sizes of pizza and only a single preference for beverage until 1990. However, over the years, it has added breadsticks, added more options for beverages and other food items in their menu.
Domino's Pizza is one the most successful stores around the world. It is a global leading brand for delivering delicious pizzas across the globe and serves more than 1 million people around the world and have more than 10000 stores. Domino's Pizza has proved its mettle in the international market and is also a leading pizza brand. It has acclaimed several awards and accolades.
Domino's Pizza FRANCHISE STATS
MINIMUM INVESTMENT
EUR 120,000
TOTAL INVESTMENT
EUR 280,000
BUSINESS CATEGORY
Food & Drink
About Domino's Pizza Franchise
Domino's Pizza was founded by Tom Monaghan in 1960. Like most corporate accomplishment stories, Domino's started out with a single store. However, it opened its 200th store in 1978 and there were 5000 stores in 1989. Domino's Pizza location grew quickly across the globe and opened its first franchise in Brisbane in 1983.
In the year 1973, there was a turning point when it introduced its  "a half hour or a half dollar off" scheme. For many years, Domino's Pizza had advertised that if the delivery took more than thirty minutes, then the pizza would be delivered free of cost.
Domino's is ranked on number two in a pizza chain across the world. It operates a wide network across the globe and has more than 7500 franchise and company-owned stores. Domino's was built on the concept providing delicious pizza and just offered a limited menu in the beginning. Domino's success and its driving force for most of the period was because of its founder Tom Monaghan. He sold the company in 1998 to Bain Capital, a private equity investment firm. However, he retained a 27 percent voting stake.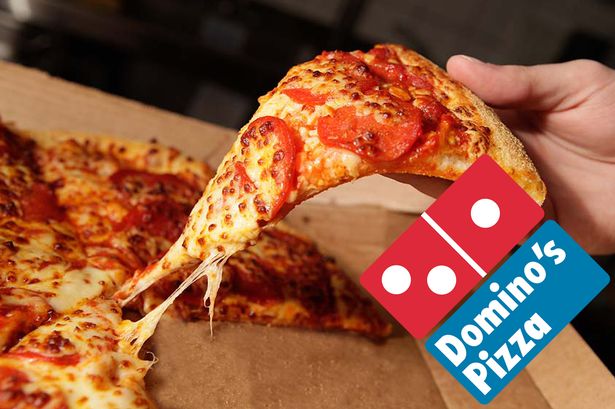 Monaghan cultivated a lot in his initial years of Domino's. He went on road trips and did his research work and learnt from his competitors. He always observed his competitors and it did not help him expand his business. He then innovated and started looking for well-equipped ideas at a Chicago convention. Over here, he found a meat-grinder and he used it to chop cheese and mix pizza dough. It just took a minute in doing it, in contrast to the standard mixers, which took seven to ten minutes to just mix a dough. He learned many techniques which helped him a lot to expand his business and make a huge amount of profit. He was not satisfied with the standard pizza boxes and wanted to renovate them as they were too wobbly to stack, and reheat. He devised an air hole box and it soon became an industry standard. He always experimented and updated with technology and this was the reason why Domino's became a great hit.
Potential Of A Domino's Pizza Franchise
Domino's Pizza is a highly recognized brand across the globe. It is committed to providing high-quality pizza at an affordable price to their customers so, starting a franchise in Domino's Pizza is the best choice. Domino's application and their website have boosted its success and investing in Domino's Pizza will surely turn out to be profitable.
Domino's Pizza is one the leading pizza franchise in the UK and across the globe. Their objective is on offering high-quality food and rewarding partnerships with their franchise holders.
They have an aim of opening 1,600 stores in the United Kingdom and aims to open 80 new stores per year. Domino's Pizza is definitely going to thrive in the United Kingdom for the years to come.
How Much Does A Domino's Pizza Franchise Cost?
The potential profits of Domino's franchise are large and it is an opportunity that is not to be missed for sure. An individual has to start investing at £120,000 and the total investment would be around £280,000. A Domino's franchise does charge a royalty fee based on the annual sales of the store. A franchise holder has to contribute to the company's marketing fund and in return they make a huge profit from their marketing schemes and promotional activities.
Why One Should Start A Domino's Pizza Franchise?
Domino's Pizza is the best place if someone is looking to start a food store franchise in the United Kingdom. It is one of the most successful and profitable businesses. Domino's Pizza had total assets worth 838.40 million Euro in 2017. Their aim is to be focused and provide the best pizza to their customers across the globe. Investing in Domino's Pizza franchise is the best decision and you make a huge profit from investing in it. Domino's is planning to cut down the waiting time from ten minutes to three minutes for delivery and by this move the customer demand will increase. Their aim for super delivery will definitely differentiate it from their competitors and provide them an edge.
How to Apply for Domino's Franchise?
Domino's puts an advertisement regarding how to apply for Domino's Franchise on their franchise page. Interested candidates can reach them or enquire about it on their official website. You can find all the necessary information about the prerequisite of franchising and how to apply for Domino's Franchise.
Domino's Pizza receives a huge amount of interest in franchising opportunities in the United Kingdom. However, you should check Domino's' franchising website regularly for updates and news on future career opportunities.
How Domino's Select Their Franchise?
Domino's selects their franchise very carefully and look for their commitment, passion, skills and entrepreneurial technique. Franchisees have to sign a Standard Franchise Agreement for each store and Domino's works closely with them and helps them to choose the right sites and set up their business. They are guided at every step and are advised by professional experts.
Terms of Agreement and Renewal Of Domino's Franchise
Domino's initial franchise terms of the agreement is 10 years for the Non-Traditional Store Franchise Agreement and Standard Franchise Agreement. It is five years for the Transitional Store Franchise Agreement. The agreements can be renewed for 10 years for the Standard Franchise Agreement and the Non-Traditional Store Franchise Agreement if the franchise meets certain requirements.
Cost And Fee Information of Domino's Franchise
Domino's Franchise costs at least £280,000 approximately.
Is Training And Support Provided In a Domino's Franchise?
Domino's Franchise is one of the most successful and highly recognized franchising businesses across the globe. It passes its success and profits to its franchises. Domino's Franchise helps their franchise holder at every step and provides comprehensive management skills and training with continuous support and motivation from their head office. Domino's Franchise is the best place to invest your money as franchisees also gets a central marketing fund worth £19 million. An individual has to participate in a four week Franchise Development Program to grab all these amazing opportunities. This Program helps an individual to run a successful business and equips them with all the knowledge and skills required.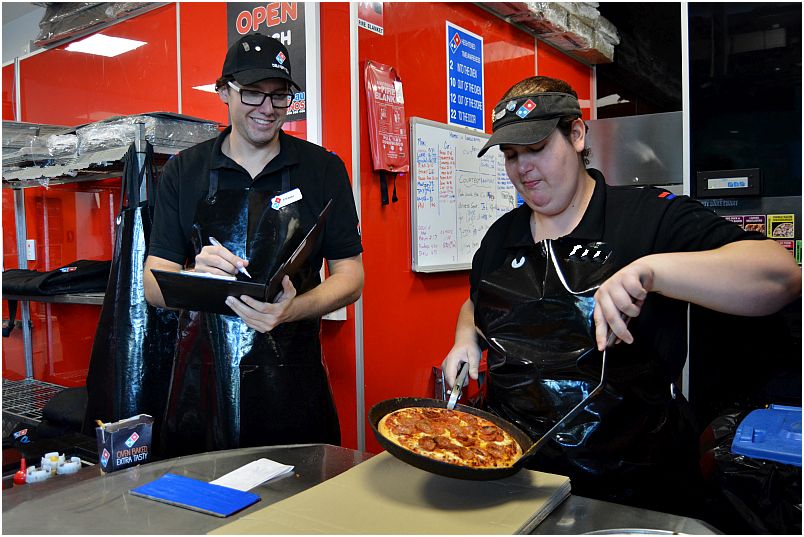 Contact Details For Domino's Franchise
You can reach Domino's Pizza for any inquiries on Franchising opportunities in the United Kingdom on investor.relations@dominos.co.uk
Frequently Asked Questions About Domino's Franchise
Can you open a Domino's Franchise?
 ~ It is one of the most frequently asked questions and yes, you can open a  Domino's franchise. If you are ambitious and passionate about opening a franchise in the United Kingdom then, you should definitely not miss the opportunity. Domino's Franchise is a win-win situation and you will definitely make some good profit.
How much can one expect monthly and yearly to make profit?
 ~ An individual can make a good profit ranging from 8% to 9% of the total sales. One can make a total profit of  $60,000 to $90,000 per year. Also, if you want to consider monthly profit then a store can make a good monthly profit ranging from  £6k to  £8 per month.
How much is required to open a Domino's Franchise in the United Kingdom?
 ~ An individual must possess a total of  £280,000 in liquid assets.
Is it safe to invest in a Domino's Franchise in the United Kingdom?
 ~ Domino's Franchise has made to the second highest sales. 98% of the total population in the United Kingdom are Non-Vegetarians. Therefore, Investing or Franchising in Domino's is the best decision you can make.