Pink Spaghetti is a management service offering quick, cost-effective business and routine lifestyle services. Pink Spaghetti is like your personal assistant taking care of your professional and domestic responsibilities for you. The company was created in Cheshire by Caroline Gowing and Vicky Matthews in 2009.
In 2012, they decided to start franchising and grew to a network of more than 40 franchises across the UK.
The company is currently headquartered in Northwich.
Why take a Pink Spaghetti franchise?
Pink Spaghetti follows a very interesting concept that makes it a unique business venture. As a franchise, the brand allows you a flexible opportunity with work-life balance. The huge domain of services that it offers its customers, allows you to use your skills and experience and benefit from them. A Pink Spaghetti franchise offers you a rewarding business opportunity.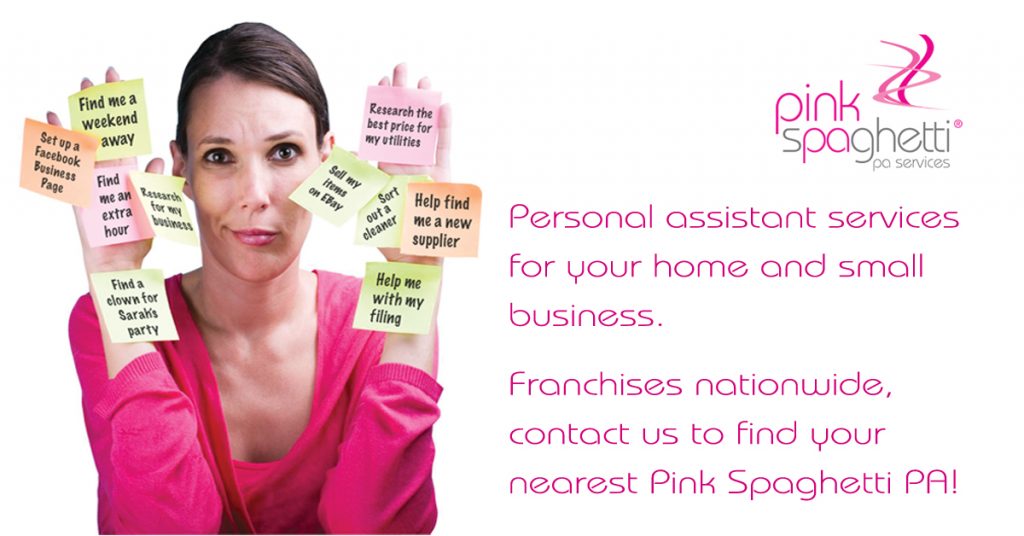 How to Apply for Pink Spaghetti Franchise?
Pink Spaghetti follows a very detailed and well-planned application and selection process for all their franchisees.
You need to first request a Franchising Prospectus for thorough and detailed information on the Pink Spaghetti business module. The prospective gives you an idea of the kind of candidate they seek as their franchisee. You can request the prospectus by filling this form: https://www.pink-spaghetti.co.uk/franchises/request-prospectus/
You must enter your postcode in this form. If a territory is available in your area, then you can proceed to the next step.  Unfortunately, if your area is not available for franchising, your application will not be taken forward.
If a territory is available in your area, you can request for a call. The franchise team will get back to you with all the additional information.
After talking to the franchise team, if both you and Pink Spaghetti want to go ahead, you can complete the application form that will be sent to you via mail.
You will have a video interview with either of the co-founders, after you submit the form. Take this opportunity to get to know them and their values and principles in regard to the business. You may ask them anything you would like in this interview.
If everything goes well, you will be invited to the head office in Chesire for a face to face meeting. You will get to meet the entire franchise support team here.
You will also a chance to meet the other franchisees and understand their way of work. This is a good opportunity for new franchisees to learn and grasp as much as they can from existing franchisees.
After all these steps are completed, if both the parties are content, then Pink Spaghetti will make you an offer. This is when all the financial and legal matters of the franchise contract are settled.
Once all the payments are done, you can proceed to the training. Ideally, the training takes place in January, April, and September, however depending on several factors, you may have the training anytime during the year.
What Training or Support will I receive with the Pink Spaghetti Franchise?
The training takes place at the head office in Chesire. It is covered in 5 days. The initial training is for 3 days and the remaining 2 days are covered after a month. During this one month, you would be working with clients.
In addition to this, you will receive monthly training videos and marketing materials. You will also have access to the Pink Spaghetti Hub intranet where you can read through training manuals and SOPs. You can also reach out to existing franchisees through the head office if you require any help or assistance.
Pink Spaghetti Franchise Cost Information
The franchise cost for Pink Spaghetti ranges between £3995 and £4995. There is an additional VAT included, to be paid over and above the fee. The initial contract is for five years after which it can be renewed with a mutual agreement. There are no additional costs involved in renewing the contract.
Being a home-based business, the setup costs are quite low, however, the investment amount can differ based on the size of the territory.
Pink Spaghetti Franchise Contact Information
You can request the franchise prospective form here: https://www.pink-spaghetti.co.uk/franchises/request-prospectus/
Or fill the Contact Us form here: https://www.pink-spaghetti.co.uk/contact-us/
Frequently Asked Questions
What is the minimum profit one can expect monthly and yearly?
~ The revenue of the existing franchisees is estimated between £1,500 and £10,000 a month. The earning capacity of each franchise depends on the number of hours they put in and the size of each team. It completely depends on you to grow your team and take up more work.
Pink Spaghetti encourages its franchisees to increase their team so they can easily take up more work and earn better.
Do I need prior experience?
~ Pink Spaghetti does not require you to have any previous experience of being a virtual assistant. The company will provide you training for that. What they do expect is for you to be hardworking, motivated and determined.
As a franchise, you will have to drive and control your own business. As a virtual assistant, you will be working with different types of people. You must be a pleasant and approachable person.
The Pink Spaghetti franchisee network consists of IT professionals, marketing professionals, etc. People with a background in legal, public sector as well as management are all part of the Pink Spaghetti team. Whether you are a senior level professional or a starting level professional, as long as you believe in pushing your limits, you are good to be on board.
Does Pink Spaghetti offer any funding options?
~ Yes, Pink Spaghetti offers different funding options to its franchisees. The company has been pre-approved by NatWest for business start-up loans. There are several other options apart from NatWest too, that you can discuss in your interviews.
Can I open more than one franchise in a territory?
~ No, you can only open one franchisee per territory. Pink Spaghetti does not believe in creating competition amongst its own franchisees.