Barfia is an Indian premium dessert brand. Barfia started from a small business in West London. Sam, the owner, started baking cakes and desserts out of passion for baking. It is after an assignment that she did for a high end wedding, that her business received widespread recognition and applause that helped it grow.
Barfia was founded in 2014 and has now become a premier, leading dessert brand in the country. Currently, Barfia has 12 stores in the UK and is looking to grow even bigger. In fact, the brand is also looking to franchise in UAE and North America.
Potential of Barfia Franchise
Barfia has made a unique space for itself in the food market. It offers a wide range of exquisite and distinctive sweets and desserts that are otherwise not available anywhere else. They have a characteristic Asian style that appeals to most people. It is also a proffered brand during Asian festivals like Eid, Diwali, Christmas, etc. The brand even caters for weddings, engagements, parties and other events.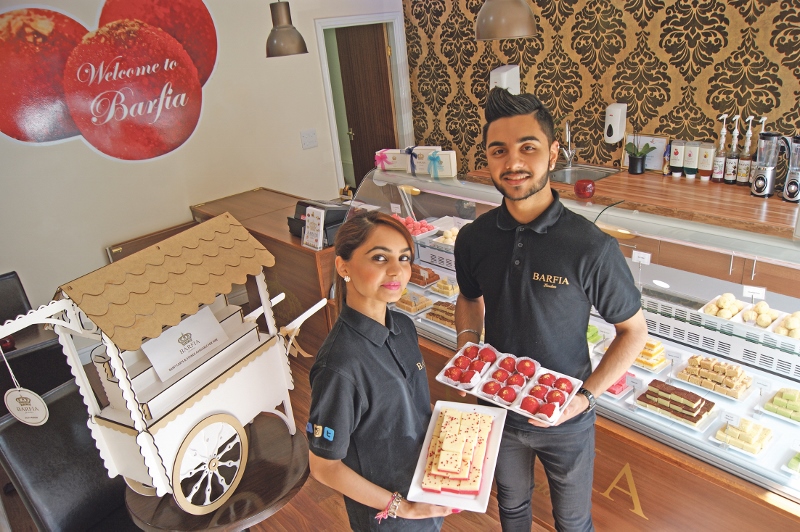 Barfia Franchise Cost & Fee Information
Unfortunately, the company has not released the precise costs of franchise.
However, if you are interested in franchising, then you should be in a position to investment in an area or site for the Barfia shop. You will also be in charge of the designing and decoration of the shop and will have to invest in local marketing yourself.
Nonetheless, even with all these costs, Barfia is an affordable franchise model than many of its competitors in the market.
How to Apply for Barfia Franchise?
If you would like to approach the Barfia franchise team, you can get in touch with them on their Contact Us page on this link: http://barfia.com/contact-us/
Alternatively, you can also email them at info@barfia.com
Or call them on: 020 3793 0463
You must include why you want to be a part of the Barfia team in your application. A franchise manager will then connect with you for an interview, based on which you will proceed ahead with your application.
Barfia Franchise Training and Support
Barfia does not offer its franchises marketing and site support. However, Barfia has a dedicated support team to help their franchisees in setting up a successful business. You can approach the Barfia team, for anything you could possibly need.
On top of this, the Barfia team will also provide its franchisees with their handmade products on a weekly basis.
Frequently Asked Questions
Who can open a Barfia Franchise?
~ Barfia looks for individuals who are highly motivated and passionate about customer satisfaction. You should be able to take your own initiative and show an undying spirit and passion in the brand. An ideal candidate must also have some marketing knowledge.
Can I choose a territory for myself?
~ Yes, you can discuss the territories you have in mind with the Barfia team. Based on the economic opportunities in the area, Barfia can take the final decision.
Is it safe to invest in Barfia in UK?
~ Yes. The unique and distinctive style and products of the brand make it a good and safe business opportunity.
 What is the minimum profit one can expect monthly and yearly?
~ This information is not available.
What are the other costs apart from initial investment involved in opening a Barfia Franchise outlet?
~ The cost of the site, the design of the shop and local marketing, are all borne by the franchisee.
Is Funding support available, if yes then for what options?
~ You can discuss this with the franchise manager during your interview.