We all love chicken. And who can think of a better place for chicken than Chunky Chicken? When it comes to fast food outlets, Chunky Chicken is definitely one of top contenders in the market. Having pioneered the Peri-Peri burger and wrap, they have become every chicken lover's favorite eating joint. Chunky Chicken is focused on the future and is therefore seeking franchise partners to help make them the leading chicken franchise in the United Kingdom. Chunky Chicken's motto is simple:
WE SERVE WHAT WE EAT, AND WE EAT WHAT WE SERVE.
Let's get you all informed on all the minute details of a Chunky Chicken Franchise.
Chunky Chicken Franchise STATS
BUSINESS CATEGORY
Food & Drink
About Chunky Chicken Franchise History
The Chunky Chicken business was founded in 2005 and is now being managed by Fareed Nasir and Mohammed Tayub, who have 18 years of total experience between the two of them. Fareed previously worked in the chemical engineering industry while Tayub is a food technologist. The two of them together are the perfect combination of good management skills and technical know-how. It's interesting that the Chunky Chicken menu is not just limited to chicken. Over the years it has progressed to many other dishes like chicken wraps, burgers, chicken sandwiches and fresh salads. A key ingredient of Chunky Chicken that has attributed to its success is its fantastic signature sauces.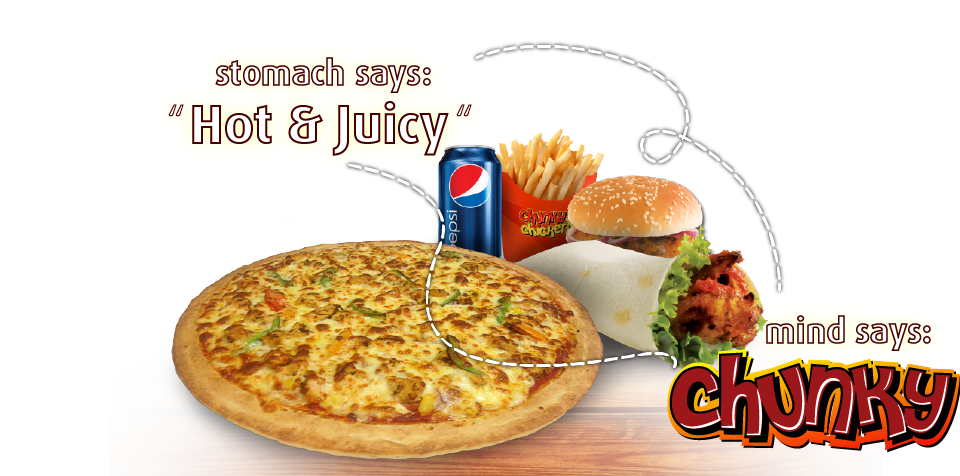 Potential of Chunky Chicken Franchise
Chunky Chicken serves premium, high quality food. You can dine it, have it delivered or opt for a take out. Chunky Chicken is one of the most sort-after franchise opportunities around! This Piri Piri chicken franchise is successfully tapped into the concept of food service across the UK, with a magnitude of options available to customers. Chunky Chicken's philosophy is highly focused on growing the presence of its franchisees in the UK. Chunky Chicken believes that a brand is only as successful as its franchisees. Which is why it provides a simple and effective business model to their franchisees.
Chunky Chicken Franchise Cost & Fee Information
The information regarding franchise costs and fees is not available online. However, anybody who is interested in their franchise can visit the Chunky Chicken website and fill in the application form. The customer care will call you back with further details. Usually, a complete building and equipment cost is presented after a site survey. The work only commences after all the involved parties are in agreement.
How to Apply for Chunky Chicken Franchise
It's simple to begin the process of application. You can fill out the Franchise Enquiry Form, here: http://chunkygroup.com/intenquiry.php
After a review of your application, you will be invited to the head office for a meeting. If both parties are satisfied and willing to proceed a license is bought by franchisee for his/her area. A full quotation is offered to the Franchisee only after the site has been properly surveyed. In the meantime, the franchisee and their workforce begin with the induction training at the Chunky Chicken head office, which has been discussed below.
Chunky Chicken Franchise Training & Support
Before the franchisee is up and running, the franchisee and management personnel are inducted into Chunky Chicken with a three week training program. The training is a combination of classroom and in-store training. Chunky Chicken provides franchisees with all the information they may required to successfully manage and lead their own Chunky Chicken Franchise. The franchisee has easy and readily available support from the head office at all times. In the early days expect a firsthand approach by the management which will steadily recede in due time, letting the Franchisee take over the control of the outlet.
However, regular franchisee meetings will be conducted at the Chunky Chicken Head Office where the management and the franchisee will get time to talk about operational issues as well as other factors affecting the business. Chunky Chicken also holds regular inspections where the store's performance is evaluated and it is ascertained whether you are compliant with Chunky Chicken's customer service norms, operational and brand standards.
Chunky Chicken Franchise Contact information
You can easily fill in the Franchise Enquiry Form http://chunkygroup.co.uk/intenquiry.php
A Chunky Chicken representative will contact you and answer any questions you may have regarding the procedure.
Chunky Chicken Franchise FAQ's
Can you open a Chunky Chicken Franchise?
~ The ideal franchisee is anyone who strives for innovation, quality, big returns and strong international growth. The Chunky Chicken management is very forthcoming with its support to franchisees in the form of regular trainings. If you meet the following requirements, you can surely open a Chunky Chicken Franchise
Previous experience from QSR and/or franchising
Entrepreneurial skills
You are driven, with a desire to succeed
Financially sound, with readily available funds
Passion for quality
Understands importance of customer loyalty
A good listener
Eager to learn
Hard working
People centric
No criminal record
No personal bankruptcy record
How much is required to open a Chunky Chicken Franchise in the UK?
~ The information regarding franchise costs and fees is not available online. However, anybody who is interested in their franchise can visit the Chunky Chicken website and fill in the application form. The customer care will call you back with further.
Is it safe to invest in Chunky Chicken in UK?
~ 98% of the total population in United Kingdom is that of non vegetarians. Therefore, investing and franchising Chunky Chicken is a great deal for any entrepreneur at the moment. The food industry is always expanding and it is never a bad idea to invest in it.
What is the minimum profit one can expect monthly and yearly?
~ As per many leading magazines, Chunky Fried Chicken's headquarters in Manchester, England, has a revenue of $10M, with 88 employees on board. While no accurate data of their profits is available online, it is safe to assume that they have been on a path of growth. As of March 2019, Chunky Fried Chicken had a record of 4.7K fans on Facebook and 306 followers on Twitter.
What are different kinds of costs apart from initial investment involved in opening a Chunky Chicken Franchise outlet?
~ This information is only given to you after you fill in the Enquiry Form. However, be rest assured that the Chunky Chicken team will provide support to the franchisee from the beginning to the end. It also provides assistance with promotions and marketing.
 Is Funding support available, if yes then for what options?
~ This information is only given to you after you fill in the Enquiry Form.