If you've ever looked at yourself in the mirror and felt that something was off, maybe you needed to change something about your look. It could be your eyebrows, the undertones of your foundation, or even your hairstyle.
Hairstyles are the best options when you are trying to completely change your look. They can be tailored to your face shape and give you a completely new look, that will transform your overall style and appearance.
In this review, we take a look at some classic bob hairstyles that have been around for decades and how you can try them out to achieve the elegant and sophisticated look you see on celebrities. Let's take a look at 3 classic bob hairstyles.
The Round-Shaped – Lob
According to Jonathan Colombini who is a celebrity hairstylist, long bobs like what you see on celebrities such as Demi Lovato, will elongate your round-shaped face and draw your eyes out. He recommends using a wave spray if you want to give the lob some movement with your face shape.
To recreate the above look, simply spray the damp strands of your hair with a spritz and then grab a handful of the ends and scrunch them upwards. You could also use a flat iron and create some s-waves. Finally, seal the look with a texture spray and you are good.
The best bob shape should however be below the chin in order to elongate it. A deep side part and light face-framing highlights will bring out the features of your face.
According to most hairstylists, the lob hairstyle will help bring out the length of your face and slim down its width. The most favorite renditions of this style are what you see on Kendal Jenner and Chrissy Teigen.
The Oval-Shaped – Just Beyond Bob
This is the opposite for round faces, it is best to have this type of bob for an oval face shape. You can find this with celebrities like Jessica Alba who used to rock this cut flawlessly. In terms of length, the best option is just below the chin.
To recreate the Alba flipped ends, you should use a flat iron to curve them outwards so you can reach your mid and your ends. Do not forget to use a heat protectant so you do not damage your hair.
If however you prefer flipped under bobs, then let KKW become your muse. Her hair is a personal favorite for people with oval-shaped faces, and what Kim Kardashian was wearing in 2018 is a classic example of doing bobs.
Now, additionally, with this type of bob, you can add bangs into the mix. Since the oval shapes tend to have much more length in the forehead, they also have the ability to wear a full fringe with the bob and not lose the closing in on the face.
This style can best be blown out with a round brush to add volume and retro and 80's inspired look.
The Square-Shaped – Layered Bob
If you love hair master Sergio Pattirane, then you will fawn over Katie Holmes's look. Hers is an airy and layered bog with extra flair. You can be able to sweep your hair into a side part in order to draw attention to your cheekbones.
However, if you prefer to have a softer jawline as opposed to one that draws attention, then you could consider having a textured and piecey bob, like the one worn by Julianne Hough.
To copy the look, simply part your hair down through the middle and use a curling iron or a wide barrel wand. Once it has cooled, run your fingers through your hair or a comb so the curls can loosen up a little bit. Finish this off with a flexible-hold hairspray.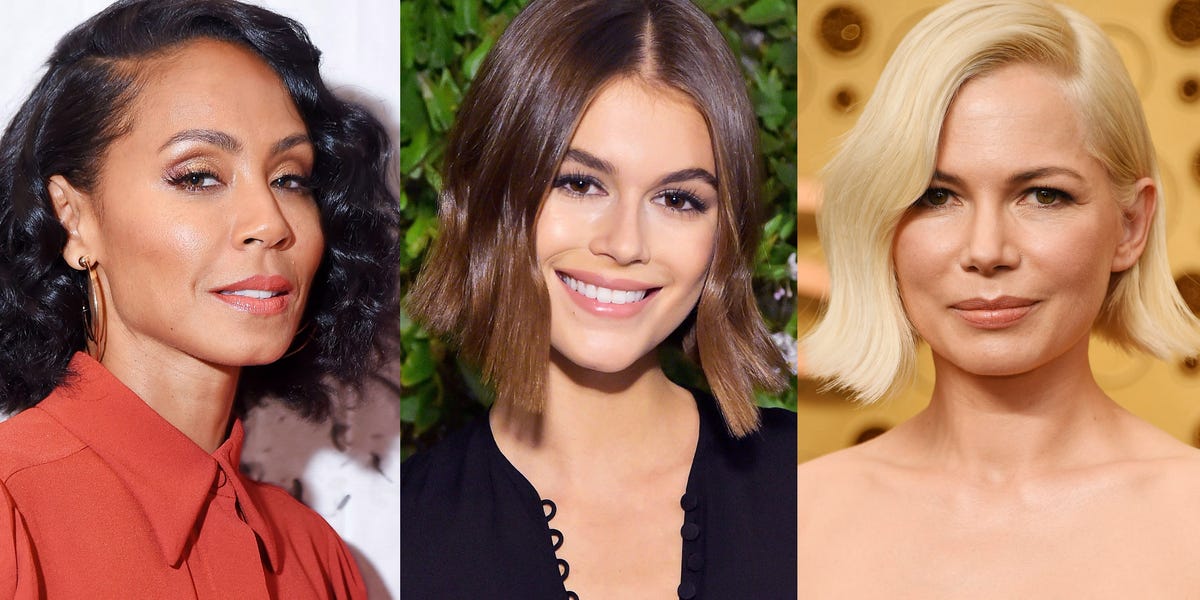 Conclusion
So, if you have been having a bob-craving, then we hope we have given you ideas to change your hair up for the summer, or any other time you feel that you need to have a little change. All the best as you look your best.