Baby Sensory Foundations founder, Dr. Lin Day (PhD., M. Phil., PGCE., FETC., BSc., Dip Ed.) is one of the UK's leading parenting experts. Baby Sensory is a product of more than 35 years of research in childhood learning and development. Baby Sensory was the first to offer learning and sensory development baby programmes for just born babies to 13 months old toddlers. Baby Sensory has won multiple awards both nationally and internationally since 2008 and has been designed categorically to educate and stimulate sensory exploration in babies in the first year of their life.
Let's get you all informed on all the minute details of a Baby Sensory Franchise with insights into what it does.
What is it like for you and your child at Baby Sensory?
Baby Sensory a multiple of interesting activities for both parents and their kids. A typical class includes activities like creative play, massage, tummy time, movement, and music. These activities can later be easily replicated at home by parents. In addition, a combination of traditional songs and rhymes are used to develop early speech and language skills, and sensory signing activities to help you and your baby communicate from birth.
It also offers themed weeks, where the baby and the parents can experience natural phenomenons like snow, jungle jitters, or even experience what it is like to be undersea. It also includes engaging sessions with animals like watching little ducks etc. Every week is aimed at introducing a new sensory development. These activities help you interact with your baby. As a parent you can discover what your baby can do and what are they drawn to.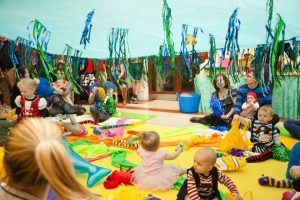 How to Apply for Baby Sensory Franchise?
Applying for a franchise is simple. You can start by sending an email to info@wowworldgroup.com. You will receive a brief summary of the offering and a form that you will be required to fill out. After you have filled and submitted the form, you will be in touch with the Regional Franchisor who will further organize all the programmes in your area/region of interest. The Regional Franchisor will guide you with the business of interest, if there are any vacant territories or businesses for sale. The Regional Franchisor will also help you with any other information you may require. Once this is done, you will be required to attend a class for a day. If you actually enjoy the class then you will be trained to run your business.
What Training or Support will I receive with the Baby Sensory Franchise?
The Baby Sensory Franchise training involves 5 days of initial support and training followed by a 2 months of pre and post training support in total. You will also receive a set of developmental equipment which includes a sensory area for free play and sensory equipment for the 40 Baby Sensory lesson plans. There is sufficient equipment for up to 20 babies at each session.
What is the added support provided to me with the Baby Sensory Franchise?
You will receive exclusive rights to run your Baby Sensory classes within your territory with a population of 150,000 to 180,000.
You will receive 4 sets of 10 detailed lesson plans for your classes.
An Operation Manual of the Baby Sensory Franchise.
You also get your own page on the Baby Sensory website that can be maintained by you and you have your own email address at the Baby Sensory e-mail domain.
A range of parent and baby activity websites for added support.
A comprehensive support with adverts and editorial coverage.
You will also benefit from national marketing campaigns with publications that have a national presence.
Important statistics of the Baby Sensory Franchise
UK Years Established: 8 years
Current UK Coverage: 75%
Franchisee Support Staff: 7
Personal Investment Req: £3,000
Total Startup Cost: £6,000 approx
Is this a home-based business location: Yes
Is it a business to consumer services: Yes
Does the franchisee operate individually: Yes
Baby Sensory Franchise Contact Information
You send an email to info@wowworldgroup.com.
You can also contact Baby Sensory at the following address:
The WOW Centre,
Faraday Road,
Salisbury,
Wiltshire, SP2 7NR
You can also refer to this link if you need to contact a particular region: https://www.babysensory.com/contactus
Frequently Asked Questions
What are the advantages Baby Sensory Classes for Infants?
~ There are several advantages of these classes. Based on detailed research and experience of working with babies and their parents, Baby Sensory classes encompasses the following aspects:
A chance to socialize for parents.
Improved parent-child interactions with no distraction of household chores etc.
Enhanced vocabulary for the child: 90 percent of brain development occurs during a child's first five years. Repetitive rhyming songs help children in building their vocabulary.
Is it safe to invest in Baby Sensory?
~ Baby Sensory is a fast-growing franchise business. Almost 75% of Baby Sensory's marketing budget is spent on initiatives to help its Franchisees which makes it a viable business option.
Baby Sensory gives you an opportunity to run your own business. In addition, it gives ready-made lesson plans and the chance of working with children and parents. It keeps you away from the typical corporate stress-filled environment.
What is the minimum profit one can expect monthly and yearly?
~ Once you are in touch with the Regional Franchisor, you can discuss the financial aspects with them.
What are different kinds of plans that Baby Sensory offers?
  ~ There are four plans:
Baby Foundations – working with adults in the pre-birth period of nesting and learning.
Baby Sensory – a fabulous journey covering your first year with your baby.
Toddler Sense – adventure activities for kids under 5.
Mini Professors – for those who love to impart learning to the kids.
KeepaBeat – a First Aid course for parents at home delivered in a fun and creative class.
How does Baby Sensory work?
Baby Sensory offers a unique programme to your child. This programme is carefully designed to stimulate your baby's senses and movement. The focus is always on development and learning. Every Baby Sensory session is designed after detailed lesson planning and research on child behavior.