Cafe2U is a successful Australian coffee van business. In the UK, it was launched in 2004 by Cafe2U's current managing director, Tom Acland. Tom actually lived in Australia between 2000-2004 and had been a regular customer of Cafe2U then.
Cafe2U is a van service and delivers premium coffee, sweets, and hot chocolate directly to its customers. Cafe2U delivers coffee to offices, sports events, industrial areas, and estates, etc.
Let's get you all informed on all the minute details of a Cafe2U Franchise.
Cafe2U Franchise STATS
Potential of Cafe2U Franchise?
Cafe2U is currently the fourth largest coffee business in the UK. There are more than 220 people running successful Cafe2U's coffee franchise system. The coffee chain has grown tremendously and with the business flourishing, it seems to be on a considerable rise in the coming years as well. All Cafe2U franchises get equal business opportunities and can earn huge sums of money if they put in more number of hours. You can have a single van or invest in multiple vans in your territory and reap the benefits as you please. The company's franchise model is also built on the working week, which means that the revenue from weekend activities is additional and can increase your earnings.
Overall the Cafe2U franchise offers a great potential and is perfect for someone looking for a work life balance as you can choose to have a single van for your business and still make profits.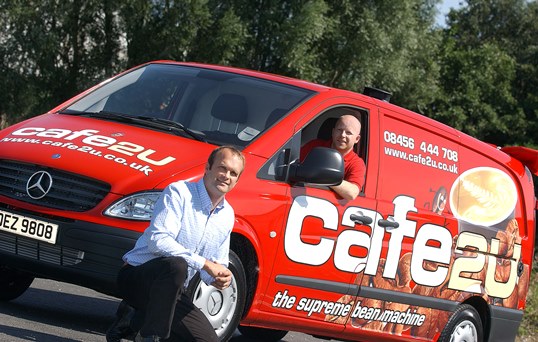 Cafe2U Franchise Cost & Fee Information
The initial franchise fee investment is of £18,950. There is an additional VAT to be paid over and above the investment. This investment gets you an exclusive territory license for your franchise, a full training module, an accelerated business launch package and a marketing pack for your new business.
The acceleration launch package guarantees a per day revenue of £275 to your business. Under this package, you will be accorded a personal 'Franchise Development Manager' or FDM for two additional weeks after the initial training, to help you launch your business and gain momentum.
Cafe2U Franchise Monthly Earnings and Profits
As mentioned above, the launch package guarantees revenue of £275 per day for your franchise. The Cafe2U model is also designed as per the working week, i.e. Monday to Friday. If you prefer to take up events, etc on weekends, you can increase your earnings. By working weekends you can easily expect to return an EBITDA of more than 30%. The monthly lease costs for the van are also included here.
How to Apply for Cafe2U Franchise?
It's simple to begin the process of application. You can fill out the Franchise Enquiry Form, here:
https://www.Cafe2Ufranchise.co.uk/join-our-team
Alternatively, you can also call Martyn directly on 07767 000005.
Cafe2U Franchise Training and Support
The Cafe2U training module is designed for 4 weeks. The training happens out of the Cafe2U academy in Yorkshire. The training starts with classroom learning for a week followed by an in-territory practical training under your FDM for another week. After the first two weeks, your FDM assists you for another 2 weeks as discussed in the above section.
Apart from this, you will get a marketing tool kit for your business. You will also be able to talk to other franchisees and receive ongoing support from the Cafe2U team, every step of the way. Cafe2U also organizes national and regional meetings on a regular basis for their franchise partners. These meetings are conducted in different parts of the country and you are welcomed to attend them and connect with other franchisees.
Frequently Asked Questions
Who can open a Cafe2U Franchise?
~ Anybody who likes to enjoy a good work-life balance and has a vision that matches Cafe2U can open a franchisee.
Is it safe to invest in Cafe2U in UK?
~ Cafe2Us offers an accelerated launch package with guaranteed revenue of £275 per day. Very few businesses guarantee revenues so early after the launch. Cafe2U provides a safe investment blanket for your business.
Is Funding support available, if yes then for what options?
~ Unfortunately, the company hasn't released this information. However, you can mention it to the Cafe2U team when you get in touch with them.