Outdoor exercise is much more enjoyable without the heat and humidity of summer. And many of us are eager to get back to some form of exercise routine after lazing around in the heat.
Fall weather is perfect for getting back into your exercise routine. However, the limited daylight hours can make scheduling your workouts a bit of a challenge. But if you like working out then you probably love a challenge.
Getting your exercise routine established now will help you build enough momentum to make it through the winter months. To keep you fit, check out these fantastic exercise tips for fall.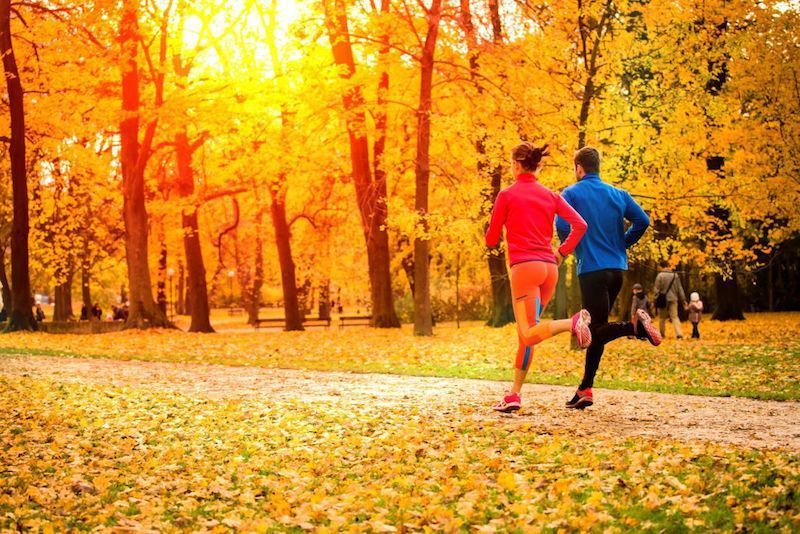 Walking
Walking is just about the simplest way to exercise outdoors and a perfect way during the day to engage in some extra movement. You don't have to think about sweating as much with colder weather so you can fit a walk at any time.
A good pair of walking shoes and, maybe, some fall weather gear are all you really need to keep you safe, dry, and secure. Make it a habit to get home from work or at night after dinner to walk every day.
You can get up 10 minutes early and start your day with a brisk walk around the block. You can use this time to think and make your to-do list of what you want to achieve.
Hit the Gym
Try new group workout sessions at your gym. Finding your inspiration seems to be more of a problem during the colder months, but if you're working out with others it can help.
Find exercise classes that you enjoy and commit to taking them every week for a few days. Group fitness gives motivation and encouragement to turn up and continue building your best self.
Running
Rounding out the top sports for outdoors in the fall is running. Fall is potentially the best time of year for outdoors running. Every time you head out, seeing the leaves change colors will make every exercise a new adventure.
Dressing in layers so that you don't get too hot or too cold is the real secret to making fall running more enjoyable. Next? Make sure people can see you by wearing reflective running gear if you're running in the dark.
Try Out Tai Chi
Tai Chi is a slow, fluid movement, also known as moving meditation, that aids your balance and strength while keeping you relaxed and connected to your body.
This type of meditation is an excellent activity to do on a cold fall night to help you stay healthy.
It can improve your mood, improve your posture, and even improve the health of your heart. Tai Chi is the ideal stress-relieving exercise due to the stress of going back to work and school.
CrossFit
Try something like CrossFit if you just want to test your limits. This is a high-intensity interval training workout where you will perform workouts with hefty loads.
You will be tracking the number of measures during each exercise so you can gradually develop your muscles. The movements are functional, meaning they engage your entire body in different ways.
CrossFit is very high in difficulty and not necessarily for beginners, so you'll want to have some fitness experience. The leader of these classes should be experienced in CrossFit.
Hiking
Fall is a perfect time to hike, with cold weather there are no pests and you get clean, crisp air. Plus, when you raise your elevation and really work those legs, hiking burns mega-calories.
There are a number of reasons why hiking is a great exercise for fall as follows.
Multiple benefits: Not only do you strengthen your muscles by climbing, but you also increase your cardio stamina. Your heart rate is boosted by walking or hiking up an incline, helping you lose calories and get fit.
Work several muscles: The glutes, quads, hamstrings, calves, heart, and feet are involved in hiking up and down even slight inclines.
It takes you outside: You spend a lot of time working indoors if you're like most people. Hiking helps you get back to nature, clear your mind, and realize that outside there's a planet.
Hiking is a fantastic fall exercise: Not only is fall ideal for hiking, but you can also see beautiful colors as the leaves shift if you do it at the correct time.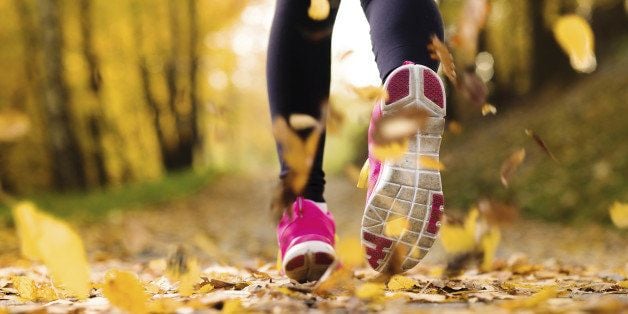 Conclusion
The crisp breeze, apple-picking, pumpkin-carving, a beautiful canopy of fall foliage, and the crunch of leaves underfoot are a treat for the senses.
The fall months are an excellent time to workout and enjoy cooler temperatures outdoors. You can take it all in and enjoy some exercise too – a double bonus!