Chicken Cottage was first opened in Wembley, north London in 1994. Ever since, it has been a well known fast food restaurant. Chicken Cottage's goal has always been to deliver unique products to its consumers.
Chicken Cottage started franchising in 1995 and has been able to retain its unique taste, reputation and consumer base, despite of many other fast food chains in the country.
The brand is synonymous of fresh food and great taste. Chicken Cottage has always been very conscious and sensitive about the ethnic and religious tastes of its consumers and offers only halal chicken.
Chicken Cottage Franchise STATS
Why take a Chicken Cottage franchise?
Chicken Cottage has grown by leaps and bounds in the last two decades. Today, Chicken Cottage has over 100 outlets in the UK. In fact, the brand has expanded to Canada, Italy, Africa, Belgium, Pakistan and Malaysia. Serving burgers, wraps, chicken wings, lamb, and some vegetarian food, Chicken Cottage caters to all kinds of taste buds.
Chicken Cottage has been acquired by TI Global Holdings Ltd. In fact, since the ownership has been changed, there is a new rebranded store coming up in Kuala Lumpur, soon!
By taking up the Chicken Cottage franchise, you will be part of a business that is growing and expanding at a global level. This is a very interesting time to join the Chicken Cottage team.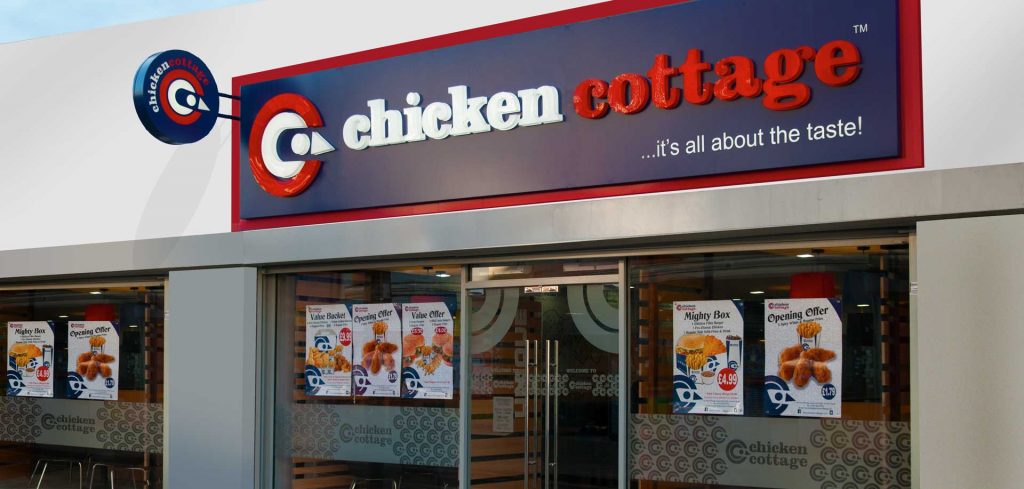 Chicken Cottage Franchise Cost Information
The average set up cost for the Chicken Cottage franchise is £200,000 to £250,000. The franchise fee alone is between £15,000 to £30,000. The brand also charges a master franchising fee amounting to £350,000 – £1,000,000 approximately. The master franchise fee is charged on the basis of the location, the population in the area and the number of surrounding branches.
The franchise fees are for a period of ten years. After ten years, you can negotiate to renew the agreement.
Chicken Cottage will check your monthly income, your spouse's monthly income and your total household income in the initial step itself. They will also verify your assets and liabilities. Generally speaking, an initial investment of approximately £150,000 is good to get started.
How to Apply for Chicken Cottage Franchise?
If you are interested in applying for the Chicken Cottage Franchise, you can visit this link and fill their franchise form:https://chickencottage.com/apply/
The Chicken Cottage franchise form is a very detailed form. You will be asked to provide your resume, educational qualifications, business experience, financial information etc. After you submit the form, the franchise team will get in touch with you with further information.
Chicken Cottage Franchise Training and Support
Chicken Cottage will provide you with an all-inclusive training programme. The module is covered in a combination of classroom and online training that primarily covers areas like customer service, store management, food safety, shift management etc. In addition to the basic franchise management training, you will also receive legal, marketing and advertising support.
The brand will also provide HR and corporate support, IT infrastructure, supply chain management, business development, SOPs and manuals, etc.
Chicken Cottage Franchise Contact Information
You can fill the franchise enquiry form here: https://chickencottage.com/request-franchise-information/ and wait for the Chicken Cottage team to get back to you.
Chicken Cottage Franchise FAQ's
Is it safe to invest in Chicken Cottage?
~ Yes. Chicken Cottage is a safe bet in comparison to many other similar franchises. The investment and franchise cost is much lower than other food chains. Chicken Cottage has extensively used marketing strategies and consumer centric techniques to be relevant all these years.
At Chicken Cottage, the management and the franchise not only share the costs but also the benefits and returns.
What is the minimum profit one can expect monthly and yearly?
~ Once you are in touch with the Chicken Cottage Franchise team, you can discuss the profits and revenue aspects with them.
Who can join the Chicken Cottage franchise?
~ An ideal candidate is someone with prior management experience and skills. If you feel a passion towards the brand and its values and can commit to Chicken Cottage full-time, then you can come on board.
If you can bear the investment costs and have an area with a population exceeding 50,000, then you can go ahead and apply for the franchise.
What will be my primary role as a franchise?
~ You will be in charge of implementing the company's standards on a daily basis. You must ensure proper hygiene, maintain stocking and staffing and concentrate on customer service. You will be in charge of all the administrative duties of the franchise. However, you can hire a subordinate to handle these operations if you prefer taking a back seat.
What kind of chicken does Chicken Cottage use?
~ To keep an inclusive consumer base, the brand uses halal chicken.