Creams Cafe established in the year 2008 and it took almost two years of thorough research until finally, it was set-up. After several trips to Italy and trying the authentic gelato ice cream, Creams carefully selected to bring the best quality of ice cream desserts in the United Kingdom. They have created an array of smoothies, juices, sundaes and desserts in their menu which can only be tasted at Creams. Currently, there are over 30 franchises in the United Kingdom and they are planning to open 300 till 2022.
Creams franchise is quite a popular and independent food brand in the United Kingdom. Their company strives to hold a pleasing value in the market and aims to present their customers with a 1950's retro Americana genre which adds aesthetic beauty to their cafe. Their cafe is a place to visit by all age groups at any time of the day. This blog will further discuss how an individual can open a Creams franchise in the United Kingdom.
Creams Franchise STATS
MINIMUM INVESTMENT
EUR 285,000
TOTAL INVESTMENT
~EUR 400,000
BUSINESS CATEGORY
Food & Drink
Creams Franchise History
The opening of Creams franchise took many years of research and tasting waffles, gelato, and waffles to ace the concept and recipe. It started in 2008 and from the very beginning they had long queues and people loved their cafe. In the year 2012, after a lot of research and planning, Creams opened its first franchise. Their theme was centered around retro Americana and now they developed to give a contemporary touch with Pop Art communication.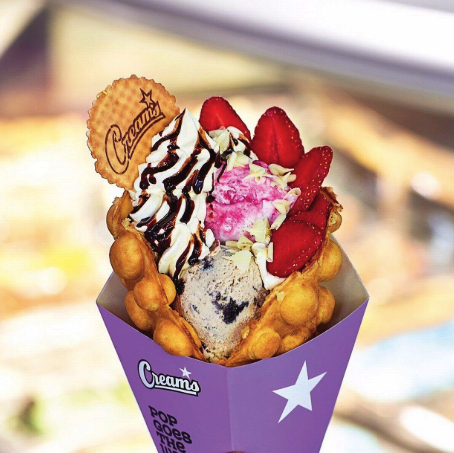 Creams Franchise Potential
Creams franchise has built a brand name in no time in the United Kingdom. They are planning to open at least 300 more cafes in 2022 and expand their business. There are currently 30 stores in the United Kingdom and they have also made an agreement with a major cinema chain. It will be a wise decision to invest in their franchise or open it as they have a proven track record of success.
The success of their stores inspired their owners to invest in their own branches. The owners believe in their own brand name and its success as the returns are attractive, so it will be wise to buy their franchise as it is an opportunity not to be missed at any cost.
Creams Franchise Cost & Fee Information
Creams franchise will cost around £285,000 to £400,000. The pricing rates can differ as it depends on the location and size of the store. Usually, a kiosk will cost between £100,000 and £150,000. The royalty fee is around 5% of the gross sales and a marketing fee of 0.95% of gross sales.
Creams Franchise Profit Information
The Creams franchise is a successful brand name and their franchise holder can make a profit ranging from approximately 7% to 9% of the total sales.
Creams Franchise Training & Support
The Creams franchise takes the responsibility and offers a certificate at the end of the training program. Their professional team of staff gives an extensive 21-day training program for their franchise holders. Their support team assists you from the very beginning, from recruiting and training your staff, helps with the marketing to control how to operate operational areas. The new franchise holders are given proper training and support services to run a successful franchise.
The Creams franchise provides a comprehensive 21-day training program for their franchise holders which helps them run their store successfully and efficiently. Their expert team members train the franchise holders so that they don't face any problem and know how to avoid the hassles.
How to apply for Creams Franchise
If you are planning to open a Creams Franchise, then fill the form on their official website and submit the details like your name, contact details and the location where you want to open it. Once you submit the application form, their team members will get back to you and give you an appointment date. Once the appointment is fixed in their head office, the franchise holders get a brief of all the relevant information. Once the business plan is discussed, the holders can start looking out the location. The whole procedure takes around two to three months.
Creams Franchise Contact Details
If you are planning to contact the Creams franchise team, then you can visit their office, Creams Franchising Ltd, 2nd Floor, Roding House, 2 Cambridge Road, Barking, IG11 8NL, UK and drop a mail at info@creamscafe.com
Creams Franchise FAQ's
Is it possible to open a franchise in a specific area in the United Kingdom?
  ~ When you submit the application form of opening a Creams franchise, then their staff will indicate the available areas where you can open a franchise.
Can we open the Creams Franchise without experience in managing a business?
 ~ Yes, you can open the Creams franchise without any expertise in managing a business.
Can we open a Creams franchise on my own premises?
 ~ At Creams franchise, they always look for an appropriate location and once you finalise the location and submit the application form, their acquisitions team will guide you and advise you on this.
What do the franchise holders receive for their investment?
 ~ The franchise holders get the right to use the Creams Cafè trademark and interesting opportunities. Besides, the trademark they get a huge return from their investment.
How long does is take to open a store of Creams?
 ~ It depends if you have a suitable property in the chosen area, but generally, it takes between two to three months.
What is the royalty fee of Creams Franchise?
 ~ The royalty fee is around 5% of the gross sales of Creams franchise.