Fitness has taken a whole new shift in the recent times. With changing lifestyles, most people are fighting issues like obesity and diabetes. With a rise in the diseases and ailments caused by unhealthy food habits, people are now finding alternative sources of food to satisfy their cravings.
It isn't a secret that the British love desserts. However, instead of sugary, high fat, traditional desserts, people are now diverting their attention to healthier options. Frozen yogurt has taken the market by storm. Frozen yogurts are tasty, healthy and offer a wide range of flavors and combinations to choose from.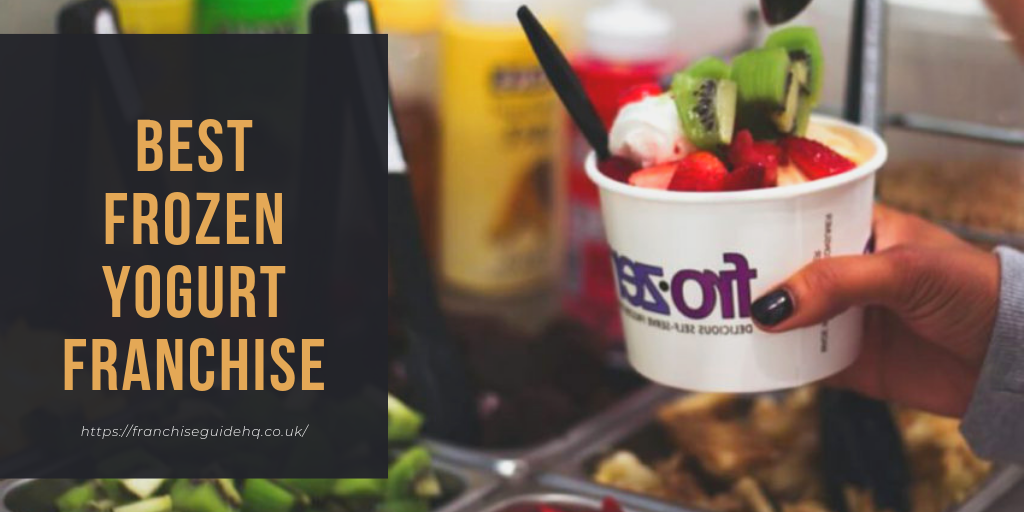 Best Frozen Yogurt Franchise in the UK
As per estimates, the frozen yogurt industry in the UK sells products of up to £40 million in a year! It is a great time to tap into this trend and make a profitable business out of it. We have put together some prospective frozen yogurt franchise options that you should consider if you wish to be a part of this trend.
Tutti Frutti Frozen Yogurt
Tutti Frutti Frozen Yogurt is the largest self-serving frozen yogurt retailer in the world. The reason why Tutti Frutti Frozen Yogurt is so popular is because of their all-inclusive menu. Not only do they offer 120 flavors of frozen yogurt, they also have many gluten free, dairy free, vegan, soy-based, halal certified options with no added sugar.
The minimum investment required to open a Tutti Frutti Frozen Yogurt franchise is £80,000 and the total investment is £100,000. There is also an additional franchise fee of £20,000. The company also charges an operational fee of 6% and an advertising fee of 3%. Both of which are calculated on your gross monthly earnings.
Smoothie Factory
Smoothie Factory is a wholesome retailer, selling frozen yogurts, fresh juices, fruit smoothies and other similar fresh food items. The Smoothie Factory has franchises in over 20 countries, all over the world. The minimum investment required for a Smoothie Factory franchise is £238,030. In addition to the initial investment, there is also a royalty fee of up to 2% for master franchisees and up to 4% for unit franchisees. You also get a complete training and support package from the Smoothie Factory team to help you set up your business.
Shakeaway
Shakeaway is primarily a milkshake brand. However, it also offers a wide range of smoothies, yogurts, and other products, all made from fresh fruits. You can invest in a Shakeaway franchise with a minimum investment of £50,000. As a franchisee, you will receive assistance in finding the right location, marketing, staff selection, as well as, complete training for you and all your employees on how to run a successful food business. Shakeaway also provides its franchisees third-party funding support.
FreshBerry
FreshBerry is another frozen yogurt franchise that is doing great business in the market. The franchise fee for a FreshBerry franchise is £20,000 per store. On top of this, there is a royalty fee of 6% on the gross sale, excluding the sales tax. The FreshBerry team helps its franchisees, in setting up the store. They assist fully in the architecture, construction, as well as, the site procurement of the store. As a franchise, you also receive marketing support to help flourish your business. The FreshBerry franchise term is for a minimum of 20 years.
Yogland
Yogland is a healthy dessert and espresso store. The company offers varying flavors of frozen yogurt with no added sugar. The company also offers a vegan diet to cater to the newer and more environment-friendly trends of the world. The company offers a comprehensive training and support system. All you need to do is head up to their website and fill up the franchise form, and they will get back to you with additional information. Under their franchise package, you can choose between opening a store or a mall concession concept.
Conclusion 
Frozen Yogurt franchises are doing great business in the market. With new environmentally supportive diets like veganism being offered by most of the brands, frozen yogurt is a healthy choice for most sweet tooths. This is a good time to venture into this sphere of the food industry!