Pret A Manger was set-up in 1983 and opened its first store in the year 1984 at Hampstead in London. They specialise in using the natural ingredients and fresh foods. The term 'Pret A Manger' translates into 'ready-to-eat'. They provide their unsold food items to charity at the end of each day rather than selling it the next day. Pret A Manger has expanded their business in the last thirty years. Currently, they have more than 450 Pret stores across the world with shops in the UK, Paris, Hong Kong, USA and Shanghai. They serve over 300,000 customers every day.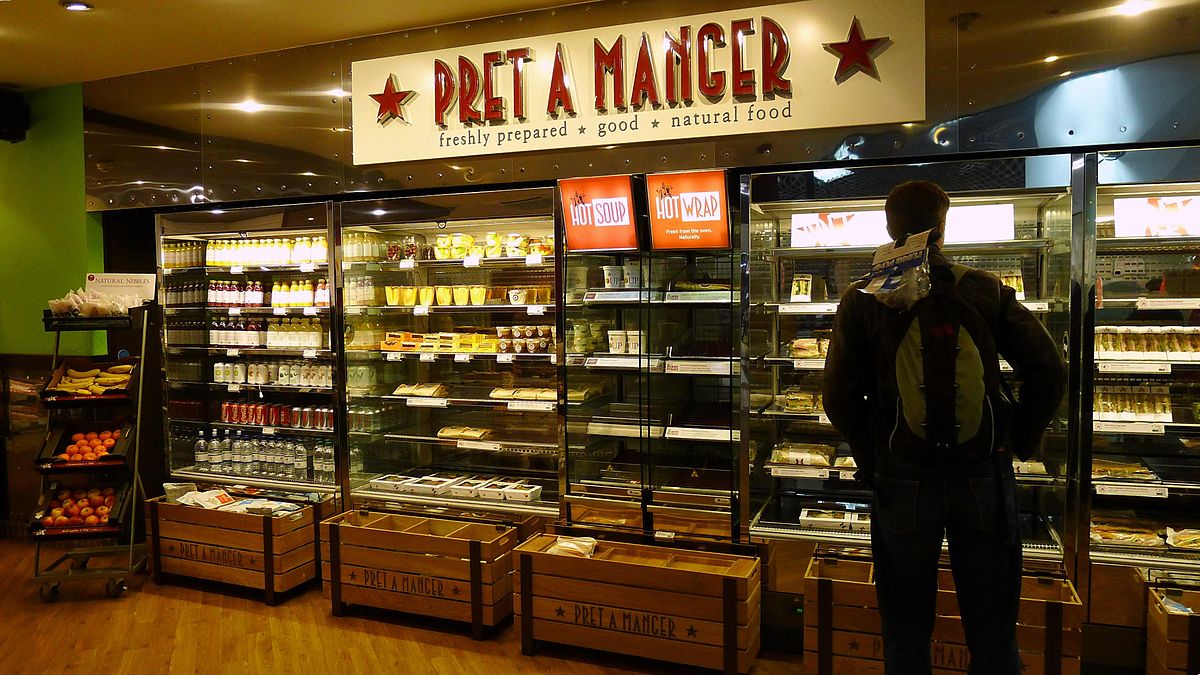 Pret A Manger has strived to achieve slow but stable growth. It is now one of the leading global brands and takes pride in being one of the world's biggest economies. They operate like a restaurant and build kitchens in or near every store. The customers will not find expiry dates on their freshly prepared salads or sandwiches as they sell only fresh food items. Their milk and coffee are organic and are quite popular among their customers. Their aim is to sell high-quality and freshly prepared food to their customers. This blog will further discuss all the essential information that you need to know about owning a franchise of Pret A Manger.
History Of The Pret A Manager
Pret A Manger was established in London on 21 October 1983 by Jeffrey Hyman. The shop's name is based on prêt-à-porter. The original Pret A Manger was located in the underground station and had its own kitchen. They offered fresh natural food, Croque-monsieur, filled baguettes and many other ready-to-go foods. Sinclair Beecham and Julian Metcalfe started a new business operation in 1986.
At Pret A Manger, they started selling handmade natural food which was freshly prepared in the kitchen and till now, they are still shareholders in the company. Their iconic logo was created by Adrian Kilby who is the founder of The Formation of Creative Consultants Europe Ltd.
Is Pret A Manger a Franchise?
Yes, Pret A Manger has started offering franchise opportunities. If you are planning to open their franchise and want to know more than you can fill the application form and mail at franchise@pret.com. Pret A Manger maintains a section of franchise enquiry on their official website, where you have to fill the details and wait for the response.
What Are The Key Requirements For The Franchise Partners?
They look for someone who has experience in handling the operation of a medium and large sized food store.
They should have sufficient access to capital. The franchise partners must have access to liquid assets of £3.5 million.
Unfortunately, due to excess enquiries they receive, they are unable to reply to enquiries that do not have a complete application form.
Pret A Manger In The United Kingdom
Pret A Manger takes pride in having over 530 stores across the nine countries, among which around 350 are based in the UK. Around  67% of the company's trade is in London and it is also where the company's first made its mark. They are often considered as an ethical, healthier and quirkier alternative to other sandwich and coffee quick service restaurants. They have worked hard to follow the highest standards and established a relatively strict recruitment process that aims at how their employees communicate and show positivity. At many Prets locations, they do not sell their sandwiches of the previous day rather it is given to local homeless people at the end of the day.
What Is Pret A Manger Franchise Cost? 
Currently Pret A Manger is offering franchising opportunities in the United Kingdom, but the exact figure is not available. However, according to some report, there are some figures available that entail the detail of how much will it cost to set-up a Pret A Manger store. It will approximately cost around £400,000 to set-up a Pret A Manger store. They have previously stated that they need around £1.5 million to finance the opening of three stores.
What Are The Best Alternatives to Pret A Manger Franchise?
Below is the list of a few of the best alternatives:
Quiznos
Quiznos provides phenomenal franchise opportunities at affordable prices and is rated among the best franchise if you are looking to buy a sandwich-based business. The set-up will cost around £200,000, to open a Quiznos store. The franchise holders are given extensive training and support services to all the franchise holders to help them run their business successfully. If you are planning to open a Quiznos franchise, then it is a great opportunity not to be missed at any cost.
Bagel Corner 
Bagel Corner is a leading brand name and takes the Quick Service Restaurant and offers healthy and wholesome bagels. They have a unique digital ordering system which allows taking orders quickly and pick-up services. They are expected to open more than 40 units of Bagel Corner stores at the end of the year 2018. The set-up will cost approximately £500,000 to start a franchise unit. They are rated as one of the most innovative franchises in the market. Investing in their company is a wise decision. They strive to offer high-standard services, delicious and fresh bagels.
Wrap It Up!
Our last alternative to Pret A Manger is Wrap It Up! It was established in the year 2006 and opened its first store in central London. It is one of the most popular brand names in the market. They are a trendy franchise, which provides a wide range of services. They often experiment with their menu and offer excellent services to their customers so that they come back again. Its lively ambience, eye-catching aesthetic and lip-smacking dishes are quite popular among its customers. To expand their business in no time they set-up their own kitchen which caters to the need of their customers. The set-up will cost approximately £120,000 to start a franchise unit.