Pizza Express was established in 1965 by Peter Boizot. Today, it is one of the UK's most famous pizza restaurants. Pizza Express is a huge global brand with a presence in over ten countries.
Even though Pizza Express doesn't currently franchise in the UK, we cannot ignore the fact that it has a lot of potential to make a mark for itself as a franchise. Let us discuss the Pizza Express franchise and whether it is likely to arrive at the UK in the near future.
Pizza Express
The popular tale suggests that Peter Boizot was unhappy with the size of pizzas available in London, which is why he decided to bring his own pizza oven from Italy. He eventually ended up launching his restaurant, now popularly known as Pizza Express. Today Pizza Express has its outlets in Cyprus, Singapore, China, Hong Kong, Kuwait, India, Indonesia, Qatar, the UAE, Ireland and the UK. They have a total of 607 restaurants globally with 14,500 employees. There global revenue is estimated to be over £530 million.
What makes Pizza Express different?
Pizza Express is different from other fast food chains. They believe in exclusivity and quality. Pizza Express does not believe in franchising. The company has been run under different ownership. Recently, the Hony Capital Group purchased the company for £900 million. Despite varying ownerships, the brand never let go of its original values and still follows Peter Boizot's principles.
Pizza Express has been an active supporter of charitable causes. In fact, the brand donated £800,000 to charity.
Pizza Express Franchises in the UK
Unfortunately, currently there aren't any Pizza Express franchises in the UK, and so far the company hasn't announced any plans of franchising in the future either. In 1997, Pizza Express opened its first franchise in the UK. This was a step to expand their business. However, Pizza Express soon took over each of its franchise.
How has Pizza Express remained popular without franchising?
Peter Boizot was extremely fond of jazz music. Because of Boizot's fondness for music, the brand has worked with many prominent musicians over the years. The brands collaboration with prominent musicians was a big part of its promotional drive.
In fact, in 1969, Pizza Express also opened its own Jazz Club in one of their restaurants where musicians like Amy Winehouse and Norah Jones have performed. Pizza Express took great interest in jazz music in London and used it to its advantage.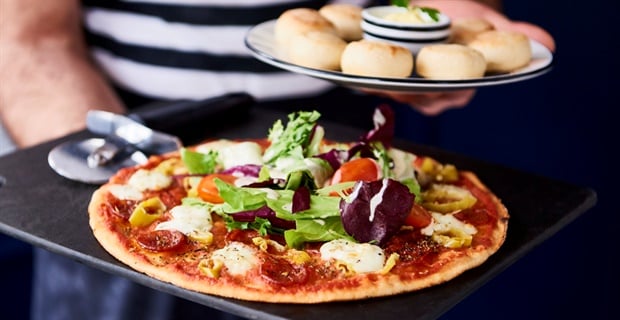 Why doesn't Pizza Express enter the UK?
This would come as a disappointment to many franchise enthusiasts, but Pizza Express isn't likely to franchise in the UK anytime soon. The company gave franchising a shot, but choose to stay away from it.
The company has been able to stay relevant and popular despite other pizza joints and believes that with good quality, they can have a loyal customer base.
However, with a change in ownership, who knows if the company may announce plans of franchising in the coming future.
Other Alternatives to Pizza Express
Even though the Pizza Express franchise is not available in the UK, there are several other alternatives that you can explore. Pizza franchises, in general, are very popular and in demand at the moment. Approximately 4 million people eat pizzas at least once in a week! The revenue from the pizza franchise industry is estimated to be close to £3,285 million.
If not Pizza Express, you can opt for Domino's Pizza, Papa John's, Bella Italia etc. While Bella Italia requires a total investment of approximately £700,000, Papa John's may cost you a minimum of £170,000. All these brands are huge names in the pizza industry and are growing bigger each day!